FC, SC, ST, LC, MU, MTRJ, MTP/MPO, DIN, ESCON, D4, etc.
Low insertion loss
High return loss
G655 fiber, LSZH, Plenum and Hytrel cables available
Simplex or duplex
Single mode or multimode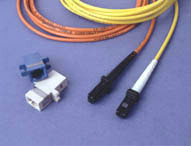 Fiber optic patch cables are suited for equipment jumper cord, cross connects, and work area connections. All patch cables are manufactured using riser grade cable and are factory tested to make sure performance to meet Telcordia standards. Patch cords are available in both multimode and singlemode, in duplex and simplex.