Thermoplastic Biconic ferrule
Precision molding
Easy installation
Single mode and multimode available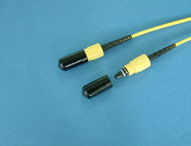 Biconic fiber optic patch cord uses Biconic connectors that have conical mating surfaces providing mating between 2 connectors. The Biconic connector employs precision molding techniques to yield fractional dB insertion loss. These patch cords are used for cable to cable, or cable to equipment single fiber connections.