FC, SC, ST, LC, DIN, MTRJ, etc.
Zirconia ferrules for FC, SC, ST, LC and DIN fiber optic connectors
Thermoplastic ferrule for MTRJ fiber optic connector
Single mode and multimode
Durable
900um short boot available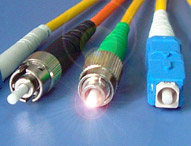 Fiber optic connector is a mechanical device used to align and join two or more fibers together to provide a means for attaching to and decoupling from a transmitter, receiver, or any other fiber optic equipment or devices. Ferrules are used to do the precise alignment for the connectors. Single mode needs higher precious for alignment.