Latched push-pull operation
Automatic metal shutter on connector
Low insertion loss and high return loss
Good exchangeability
Good repeatability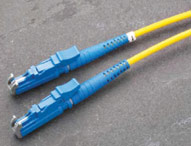 Fiber optic E-2000 patch cords are designed for variety of applications of Telecommunication, CATV, LAN, etc. Our E-2000 patch cords comply to PREN 186270, IEC61754 and CECC 86275-801 (PC) and CECC 86275-802 (APC). E-2000 incorporates many innovative features to address the needs of users.