Small form connector increasing port desity by 50%
Duplex
Versatile RJ-45 latching mechanism
High quality Thermoplastic ferrule
Single mode or multimode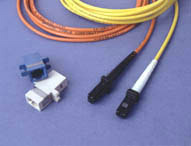 MTRJ is developed to meet growing industrial demands for high density, low cost and easy to use connectivity. MT-RJ reduces panel space by 50% throughout the network. The combination of a small form factor connector with the popular RJ45 latching mechanism makes sure MTRJ to work perfectly for horizontal cabling and desk-top applications.