FC, SC, ST, DIN, FC-ST, SC-FC, etc.
Zirconia or bronze sleeves
Single mode and multimode
Durable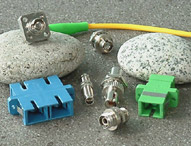 Fiber optic adapter is a device used to connect two fiber optic connectors together. For example, if two male fiber optic connectors are required to connect, a fiber optic adapter can be used with a female interface at both ends. Fiber optic adapter uses zirconia or phosphor phosphor bronze sleeve for precious alignment of two ferrules of two mating connectors.