19", ETSI or 23" rack mount

Provides fiber splicing, termination, management and storage in one unit

Economical design

High density - up to 48 fibers for a 1U unit and 96 fibers for a 2U unit when LC is used

Supports single and ribbon fiber splices

Top cover removable

Made from cold-rolled carbon steel sheets

Economical design

Guaranteed fiber bend radius >30mm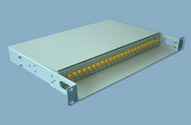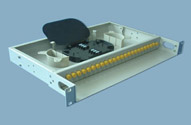 The rack mount splice and termination boxes perform fiber splicing, distribution, termination, patching, storage and management in one unit. The top cover is removable, and the splice trays inside is accessable from the top as shown in Fig. 2. Additional splice trays can be stacked on top to increase capacity. Each splice tray can accommodate up to 24 single fiber splice protection sleeves (with diameter of 2.3mm) or 6 ribbon splice protection sleeves. Splice trays can be opened individually and removed from the box. Excess length of cables/pigtails is stored in reels. The outside-plant cable input ports are located at the rear panels.