19", ETSI or 23" rack mount

Provides fiber splicing, termination, management and storage in one unit

Easy frontal access

High density - up to 48 fibers for a 1U unit and 96 fibers for a 2U unit when LC duplex is used

Slide-out drawer

Each splice tray is removable for off-rack splicing

Universal adapter plug-in fits a variety of adapters such as SC, FC, LC, etc.

High density adapter plug-in - 12 fibers for SC and 24 fibers for LC duplex

Oblique installation of adapters to avoid laser hazard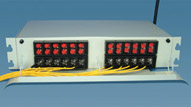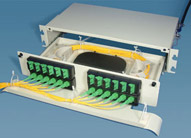 Each distribution enclosure incorporates a slide-out drawer to allow full frontal access and operation. The slide-out drawer has universal adapter plug-ins on the patch panel and has splice tray(s) behind the patch panel. The universal adapter plug-in can accommodate a variety of adapters (see Fig. 3). It has high density and can house a maximum of 12 FC or SC simplex or ST or LC duplex or MTRJ adapters, 6 SC duplex or LC simplex adapters, and many other types of adapters. The adapter plug-in provides oblique installation of adapters to avoid laser hazard to eyes.