Suitable for aerial, cable duct, direct buried, pedestal and well applications
Can be used cables with diameter up to 36mm for CLS-I96 and up to 22mm for CLS-I48
4 cable entry ports with 2 in and 2 out
Add-on style splice trays
Holds up to 96 single fiber for CLS-I96 and up to 48 single fiber for CLS-I48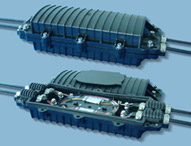 The in-line closure comprises a bottom and a cover. The cover is secured with stainless screws. The closure is equipped with 4 cable input/output ports. Re-usable sealing gasket can be used for ease of maintenance.