Suitable for aerial, cable duct, direct buried, pedestal and well applications
Can be used for cables with diameter up to 21mm
6 cable entry ports
Flip-up style splice trays
Holds up to 96 single fiber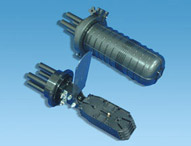 The dome type optical fiber closure provides airtight and watertight environment. The fiber splice closure delivers a hermetic seal once sealing ring tightens and locks the dome and the base. The closure can be used for aerial and burial applications. It has six cable ports.