Support adapter bulkheads and splitters
Suitable for aerial, cable duct, direct buried, pedestal and well applications
Max. 12 cable entries
FTTX, access networks and broadband
Holds up to 240 single fiber splices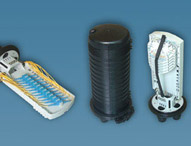 The FTTX dome closure accommodates up to 20 splice trays. Its adapter mount can equip 24 SC, FC or LC adapters. It also supports 2 splitters for fiber optic service drops in FTTX deployment. Air valve is also available as an optional accessory.