Supports splitters
Suitable for aerial, cable duct, direct buried, pedestal and well applications
Reliable and re-usable sealing gasket
FTTX, access networks and broadband
Holds up to 144 single fiber splice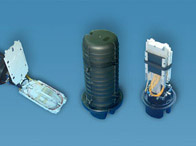 The closure has 5 cable entry ports. One of the ports has larger size and fits two cables. Each of other ports fit one cable only. It supports fiber optic distribution drop splitting of up to 2 splitters in FTTX deployment.